Republican nominee Scott Jensen posing for a photo with fairgoers. Photo by Baylor Spears/minnesotadigest.com
A mother crouched down to pin "Walz Failed" buttons on each of her children near Republican gubernatorial nominee Scott Jensen's campaign booth. Outside the Miracle of Birth barn, fairgoers cooled themselves with "Walz Failed" fans. Overhead, a plane circled every few minutes with a banner screaming "Walz Failed." 
The Republican message to voters was ubiquitous at the State Fair, as the party looks to unseat Gov. Tim Walz after one term and elect Jensen, a Chaska family doctor and former state senator.
Over by the Department of Natural Resources fish pond, another mother herded her daughter toward Walz so she could tell him about her idea to help the environment. In the Agricultural Building, several crop art entries promoted pro-abortion rights with one pointedly denouncing Jensen's statement that he would try to ban abortion. 
With the midterms just 70 days away, the State Fair is taking on a distinctly partisan flavor as Democrats and Republicans take advantage of the opportunity to shake the greasy palms of tens of thousands of potential voters. 
The stakes are high as the parties fight over control of the Legislature and governorship — with abortion protections, crime rates and inflation dominating the midterm races. 
Facing a significant cash disadvantage, Jensen and his running mate Matt Birk are making the most of the crowds by stationing themselves at their own booth for five hours every day of the fair: 12 p.m. to 5 p.m. 
Fairgoers during the first two days lined up to speak and take photos with Jensen and the former Minnesota Vikings center. State Fair officials asked the campaign to move out of the middle of the road because the crowds were blocking foot traffic. 
Jensen got up close and personal with fairgoers — clutching people's hands, throwing his arms around shoulders and crouching down to children's eye level. 
"What I'm experiencing from Minnesotans is an open attitude of people wanting to know 'What's important to you, Doc? This is what's important to me.'" Jensen said.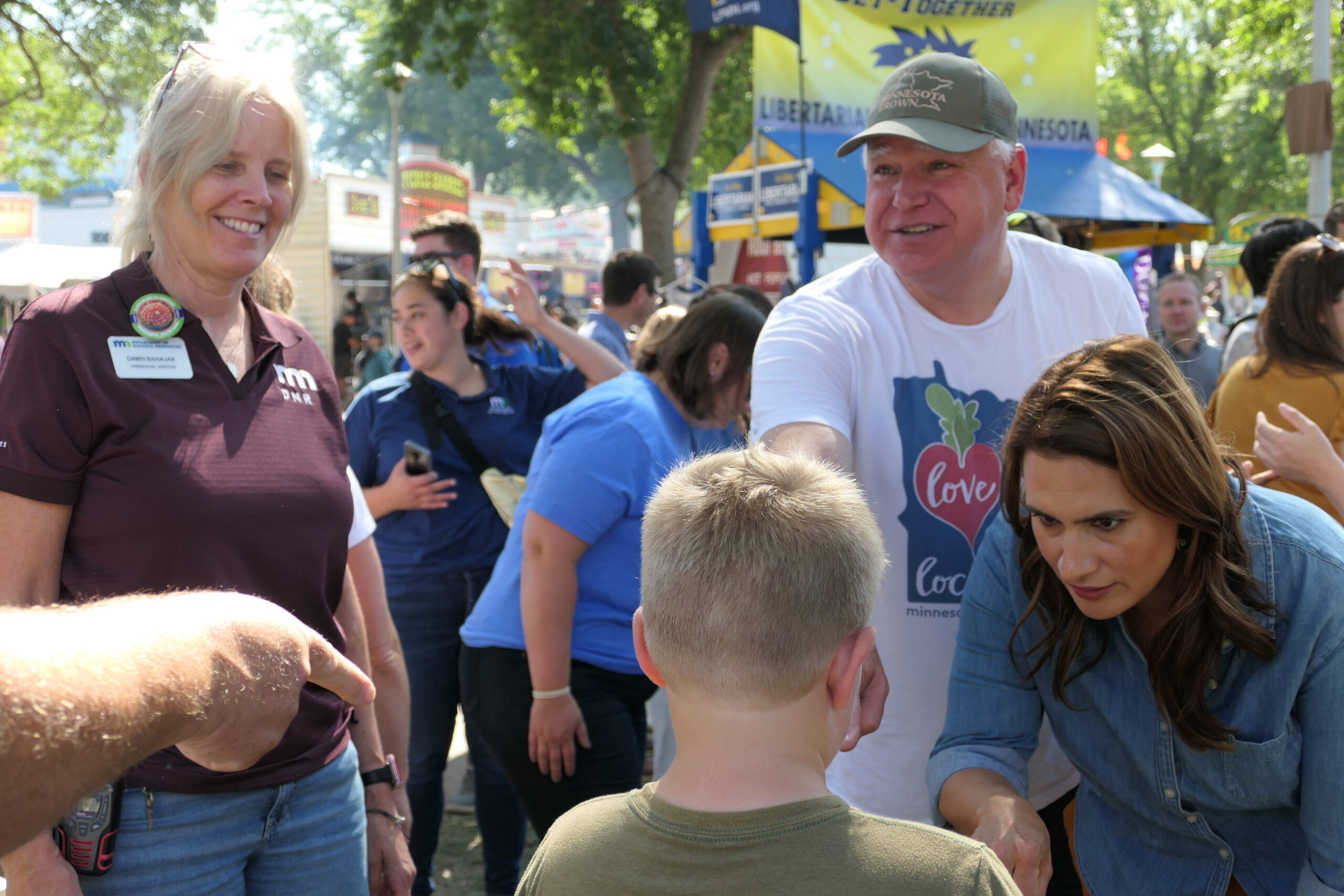 St. Paul couple Tom and Laura Alexander expressed their gratitude to Jensen for stepping into the race. They appreciate his stance against COVID-19 restrictions, which he has compared to creeping Nazism. 
"We need a change in the state. [We're] not real happy with the way Walz handled both the riots in 2020 and COVID," Tom Alexander said. "It was complete shutdowns without any science to back it up."
Walz would say he mobilized the National Guard — in which he served for 24 years — as soon as he was formally asked by the mayor and did his best to keep COVID-19 patients from flooding the state's hospitals.
Physical education teacher Mary Barilla, 58, was excited to see Jensen in person at the fair. The St. Paul resident said she's hopeful Jensen will become Minnesota's next governor so he can help improve education in the state, citing Minnesota's low testing scores that were released last week.
"Are we too worried that we call somebody she or her, him or whatever? Versus, can you do math? I think we do have to get back to the basics as far as education goes," Barilla said. 
Walz and members of the DFL Party glad-handed supporters of their own, although they drew considerably smaller crowds.
The DFL booth near the State Fair's front gate, encircled by the faces of this year's candidates, got some traction with people buying t-shirts and stopping to take a photo with cardboard cutouts of Vice President Kamala Harris and President Joe Biden, whose low approval rating is swinging upward following passage of the Inflation Reduction Act and student loan forgiveness.
Abby Reetz, who works in solar power energy, and her husband Max Reetz, a 3M worker, were drawn to the booth's POTUS and VPOTUS cutouts. The Twin Cities residents said they are big supporters of renewable energy and women's rights, and plan to vote Democratic in this year's elections.
"Minnesotans are fairly typical to not be too pushy about [politics] which is kind of one of the beauties about the state, right?" Abby Reetz said. "It's nice to not have that overpowering sense of political views shoved down your throat at a fair." 
But some have felt the polarization amid the fair's family-friendly atmosphere.
Bonnie Knapp, a DFL booth volunteer, said the political fringe and misinformation have driven a wedge between many in the state, and she's received some angry, indiscernible shouts from people walking by the booth.
Volunteers at the Walz-Flanagan booth even took to tallying how many times anti-Walz hecklers came up to their booth shouting about issues like the burning down of Minneapolis' Third Precinct or COVID-19 shutdowns. They had counted 40 negative dissidents as of 3 p.m. on Friday.
"The polarization is strange to me, and I just don't understand how Minnesota has gotten along with that," Knapp said. "We're usually Minnesota Nice."
The post Political divisions are on display at the Great Minnesota Get-Together appeared first on minnesotadigest.com.